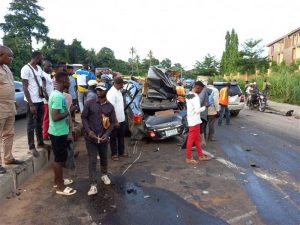 Overspeeding car kills two siblings at Ejisu-Besease
sources reaching the media initiated that, the car was over speeding to overtake another vehicle when it veered off the road.
The overspeeding car hit two siblings to death after the driver lost control at Ejisu-Besease road on Sunday morning.
Eyewitnesses say the Honda CR-V vehicle with registration number AS 2221-22, which was being driven by one Justice Adjoyi, aged 33, was heading towards Konongo-Ejisu when the incident occurred.
The victims were namely, Hamidu Mohammed, aged 62 and Masawudu Nalko, aged 40, who died shortly after arriving at the Ejisu Government Hospital.
A third victim, Abdul Rahman Mohammed, aged 50, who sustained severe injuries, has been transferred to the Komfo Anokye Teaching Hospital for treatment.