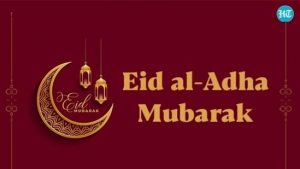 Eid al-Adha 2022: Wishes, Messages, And Greetings For Bakrid
Eid al-Adha: In the month of Dhu al-Hijjah, the 12th month of the Islamic calendar, Bakrid is celebrated with much fervour by the Muslim community across the world.
Eid al-Adha 2022: Date Confirmed
Muslims around the world are celebrating one of their most important holidays on July 9 and July 10 this year: Eid al-Adha or "Feast of the Sacrifice." The date varies because it depends on the sighting of the new Crescent Moon.
Illustration image
89 countries around the world officially celebrate Eid al-Adha. Together, they are home to 60% of Earth's population.
© timeanddate.com
Eid al-Adha Is on July 9 and July 10, 2022
This year, most countries celebrate Eid al-Adha on July 9, while others—among them Brunei, Hong Kong, Kenya, and Japan—celebrate on July 10.
The date of Muslim holidays is difficult to predict because it depends on the sighting of the crescent Moon. Muslims use a lunar calendar: A month starts when the new Crescent Moon has been seen in the sky.
And since Eid al-Adha is on the 10th day of the month of Dhu al-Hijjah, the date for Eid al-Adha in the Gregorian calendar is not fixed until Dhu al-Hijjah has started.
Because the Moon sometimes can be hard or impossible to see in some countries, Muslim months can start on different dates around the world, creating several dates for Eid al-Adha.
Advertising: Content continues below ad.
What Is Eid Al-Adha?
Eid al-Adha or "the festival of sacrifice" is one of the most important Muslim holidays. Muslims demonstrate their faith and loyalty to Allah by sacrificing an animal, usually a goat or a sheep—sometimes even a camel.
The holiday goes back to the religious story of Ibrahim, who was ordered by Allah to sacrifice his son. It was a test of faith: After Ibrahim and his son had submitted to Allah, he rewarded the pair and told Ibrahim to sacrifice a sheep instead.
Today, Eid al-Adha reminds Muslims of their submission to Allah as well as of the meaning of sacrifice—to give up on personal desires and share with those less fortunate.
89 countries around the world list Eid al-Adha as an official holiday (light green on the map above). 71 of those countries celebrate it as a national holiday (dark green). All countries combined are home to about 60% of Earth's population.
How do Muslims celebrate Eid al-Adha?
22 Names for Eid al-Adha
The holiday's original name is in Arabic and "Eid al-Adha" is a transliteration into English. This leads to many different spellings like Idul Adha, Eid ul-Adha, Edul Aajaha, or Eid ul-Al'haa.
In addition to these variations, Muslims also use names deriving from other parts of the holiday, such as the tradition of sacrifice called "Qurbani," leading to the names Eid al-Qurban or Eid e-Ghorban, as well as Kurban Ait, Qurban Bayram, and Kurban Bayramy.
Finally, the holiday has also been translated into other languages, leading to names like Hari Raya Haji (Australia) or Tabaski in Benin, Senegal, Sierra Leone, and Togo.