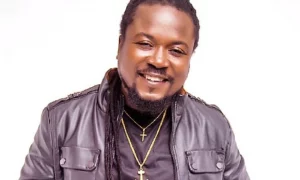 EXDOE: "I have Not Stopped Doing Music"
The "Daavi Mede kuku" hit maker, Richard Kwasi Siaw Akrofi populaly known in showbiz as Exdoe has explained why he has not been releasing new songs for the past decade.
Speaking with Henry Henz on Time 105.3 FM Entertainment Review, Exdoe made it clear that he has decided to hold on for now and focus on his old songs.
"I have a music band that I use to trek across the country, I have actually decided not to release any new song for now because even if i do, my fans are always requesting for my old tracks instead of the new ones". He said.
Exdoe stated that, there's is too much traffic in the industry, everyone wants to release and songs are been released on daily bases, so there's the need to work hard in order to be relevant. He said this is one of the reasons why he has decided not to get himself with any competition.
"I have done good songs that are still trending for over 20 years and i believe if the youth will work hard and come out with good songs, it will be profitable to them in the future. New Artist should try and be creative.
"Many upcoming artist play on stage instead of singing when they are giving the chance, forgetting that artist in Ghana lack access to bidding for shows because of the content of their songs and also laziness.
"Amakye Dede and some other artists are not releasing new songs but they are still relevant and trending because of quality work".
"I have not stopped doing music, I am playing more shows with my band".