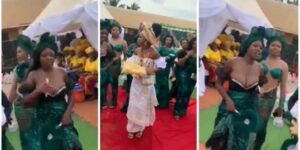 Just In; Bridesmaid Steals Bride's Shine
A video that captured the moment a busty bridesmaid stole the show during her best friend's wedding has gone viral on social media.
In a video shared online, the bride and her bridesmaids are seen dancing out during a traditional wedding ceremony.
The bride who was leading the group of ladies was wearing a very beautiful dress and was adorned with jewelry to make her stand out.
Her bridesmaids were however wearing the same emerald green dress as they followed the brie while dancing.
However, one of the bridesmaids got all the attention with her outfit as it showed a better part of her cleavage.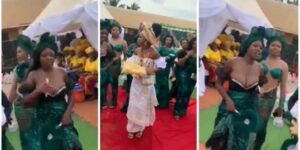 As if that was not enough, that particular bridesmaid was seen dancing which saw her cleavage shaking thereby drawing all eyes on her.
A guest, who appears to be a VIP because of the uniformed escort following him, walks towards the dancing women, but rather than go to the bride, he goes to the bridesmaid and begins spraying money on her cleavage while ignoring the bride completely.
The video has attracted hundreds of thousands of views on social media and over a hundred reactions.