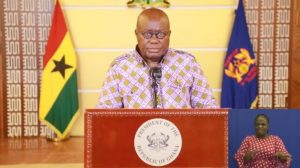 Watch video: Akufo-Addo's 26th Address To The Nation On COVID-19 Pandemic
President Akufo-Addo on Sunday, July 25 addressed the nation on measures his administration has put in place to intensify the fight against the Covid-19 pandemic to prevent further spread.
His 26th address comes at a time when the country is recording high numbers of the coronavirus disease and heading for a third wave.
Speaking from the Jubilee House, the President said government is committed to achieving herd immunity to protect citizens from the coronavirus disease.
According to him, some 18,478,670 vaccines will be procured through the COVAX facility, African Medicine Supply Platform and other bodies to aid in the fight against the Covid-19 pandemic.
While reminding the citizens to strictly adhere to the Covid-19 safety protocols, the President also updated the directives surrounding weddings and funerals in the country.
He also revealed that government will inject seed funding of twenty-five million United States dollars (US$25 million) to facilitate the construction of a National Vaccine Institute.
Watch video below!