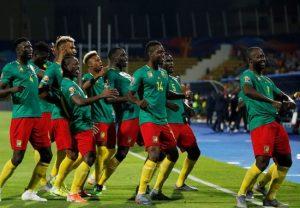 Cameron qualifies to the 2022 Fifa world
Cameroon won in the last moments of the extra time the ticket to the 2022 Qatar World Cup.
The Lions lost the first round of the series 1-0 at home. At the Mustapha Tchaker Stadium located at Blida, Argelia, the Lions won during the regular time, drawing the series 1-1.
During extra time, Argelia scored in the first leg of the 30 minutes. However, the goal was invalid due to a handball.
In one of the last efforts of the game, Ahmed Touba scored the 1-1, two minutes before the end of the match.
In a dead ball situation, Touba raised in the air to connect the ball with a header and send it to the back of the net.
The game seemed to be done by Touba's goal. The probabilities with just one minute to go plus the added time seemed impossible for Cameroon.
Nevertheless, the miracle happened in a dead ball situation. A midfield foul allowed Cameroon to send a crass ball into the box, and Toko Ekambi scored the qualifier goal.
Even when Toko Ekambi and Eric Maxim Chopo-Mouting got the highlights, Cameroon's goal-keeper Andre Onana was one of the most crucial players in the second leg against Algeria.
Cameroon, Morocco, Tunisia, Ghana, and Senegal are the five teams representing the African Confederation in the 2022 Qatar World Cup.