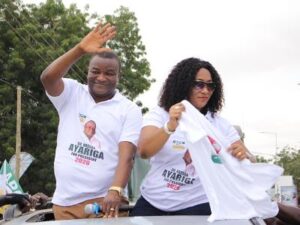 Over the weekend, the Presidential Candidate of the All People's Congress (APC) Dr. Hassan Ayariga commenced his political campaign from the Greater Accra region with the aim of selling his manifesto policies and canvassing for votes.
Dr. Hassan Ayariga was in the company of his wife and APC First Lady Mrs. Ayariga as well as leading executives of the party and some party supporters who were jamming on a float.
Some of the areas he visited included the Madina Market, Nima Market, Ashale Botwe Community, Newtown, Pig Farm, Kwame Nkrumah Circle Tip-Toe Lane, Abeka Lapaz, Darkuman Nyamekye among others.
Throughout his tour, he trumpeted one critical message of change on 7th December and further promised to support small and medium scale enterprises (SMEs) with loans if he gets the chance to become the president of Ghana.
"I am just looking for only one term of office and I bet you will see what I can do in Ghana in that short period of 4 years. You have voted NPP, NDC for so many years now, absolutely nothing has changed. It is the same old hardship and complaints," Dr. Hassan Ayariga stated.
He continued…"On 7th December, Vote Number 7…I have come to tell you today that WASTE YOUR VOTE ON APC and HASSAN AYARIGA and put me into power and Ghana will be made to work again through what we will introduce as JOB CENTRES, which will identify professions of people and give them jobs. We will also give loans of GHC5,000 (Five Thousand Cedis) to SMEs and all traders across the country."
"NPP, NDC are always deceiving you Ghanaians because you Ghanaians have given them that chance. If we stop voting for these two parties and vote for APC and Dr. Hassan Ayariga Ghana will never be the same again, " he said.