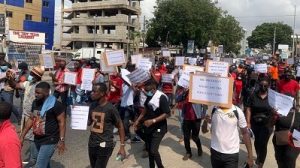 Just in:NABCO Trainees To Engage Regional Demonstrations
Nabco set for a massive demonstration over 8 months unpaid arrears
The Nation Builders Corps (NaBCo) sets to embark on a demonstration through the principal streets of Accra and other Regions to demand the immediate payment of allowance arrears owed its members.
They also called on government to the matter of urgency payment of 8 months arrears and permanency as promised.
The demonstrators will carry placards including "Hunger kills more than COVID-19," "When are you paying our 8months arrears Mr President? NaBCo heal Ghana also matter," "Job experience without livelihood is useless," and "Over three years working experience is enough for permanent employment."
Addressing the media, NaBCo trainees said the fundamental objective of the NaBCo scheme was to ensure the survival of the unemployed Ghanaian youth, however, that was not the case.
"It is unfair to us after working for three years, Labour experts continue to describe the NaBCo trainees as experienced with great skills as some of us had degrees in various fields of study," they lamented.
Nabco trainees explained that it was important for the government to admit that, the country was currently facing job crisis and weak private sector empowerment, hence, "the increasing unemployment crisis in the country."
However, they appealed to the government to consider the trainees into the public sector and the immediate disbursement of the outstanding 8 months arrears.
There are massive allegations by the Nabco trainees that allowances have not been paid for 8 months since November 2021.