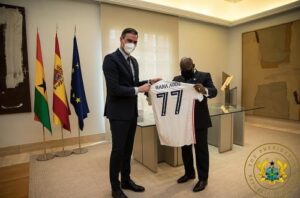 President, Nana Addo Dankwa Akufo-Addo has received a perfect and timely gift on his 77th birthday when the Prime Minister of Spain, Pedro Sánchez, decorated him with a customized Real Madrid jersey.
The jersey was autographed by several players of Real Madrid.
President Akufo-Addo is in Spain attending the "Focus Africa 2023" conference.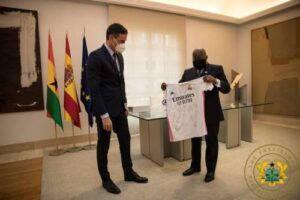 Several messages have poured in celebrating and wishing President Akufo-Addo well on his birthday .
The governing New Patriotic Party (NPP) in celebrating Akufo-Addo on his 77th birthday described him as a leader who puts the nation first in all his endeavours.
"To you, the national interests and for that matter the legitimate expectations of the Ghanaian people, at all times, take precedence over every consideration. You are that President who chooses country over self; country over family; country over presidency; and ultimately, country over your political party."
"It is thus not surprising that even on your birthday, instead of celebrating with your family and friends here in Ghana, you have elected to travel all the way to Spain on official assignment," the party added in a statement.