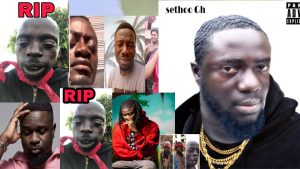 Sethoo Gh and celebrities mourn TikTok sensation Ahuofe Abrantie
Apparently the most sensational and international hip-hop mega star and songwriter "Sethoo Gh" with Ghanaian celebrities including Sarkodie, Stone Bwoy,Shatta Waley, Six stones etc. mourn the most celebrated TikTok sensation popularly known as Ahuofe Abrantie.
The Ghanaian TikTok sensation, Ahuofe Abrantie, popularly known as Tupac, has died. Ahoufe died in his Kumasi apartment on Thursday after doing a some hour live video to the media.
Watch the stunning videos below!