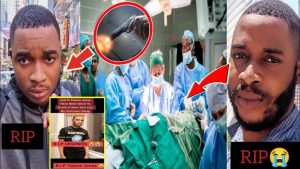 Watch video : is Twene Jonas alive or dead?
The unconfirmed report of the death of Ghanaian Socialite Twene Jonas who has allegedly been shot and killed by an unknown gang in New York City has become a matter of interest.
The vociferous socialite who is famed for ruthlessly attacking Ghanaian public figures including politicians, celebrities and pastors was pronounced dead by a TikTok user identified as Nana Agyemang.
According to the faceless handler of the account, Twene Jonas was murdered Tuesday, April 3, 2023, a video he shared paying tribute to the internet personality suggests.
See also Ghana Under Attack by Al Jazeera – Part 1
It is believed that Jonas may have been a target of assassination because of his incessant attacks on Ghanaian leaders and personalities, and a hit on him has now been undertaken.
HOT VIDEO'S
This rumour monger, however, cannot be trusted with this news as he is notorious for causing fear and panic by sharing the content of doom about celebrities.
He recently triggered angry reactions when he claimed dancehall musician Shatta Wale had passed away.
Subscribe to watch new videos
After a careful search on all his active social media handles, Twene Jonas since the news of his death has not come Live as is normal of him to react to it nor talk on issues like he use to.
See also LGBTQ+ Bill Finally Laid In Parliament; Awaits Debate
The searches revealed that the loud social media sensation last posted on his handles 3 days ago.
This in a way is making people believe that the claim that Jonas is shot dead in New York by TikToker Nana Agyemang is true.