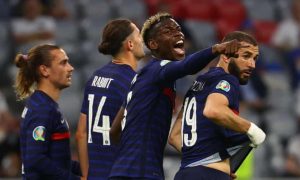 Full time: France 1-0 Germany
Peep peep! The world champions start their campaign with an assured victory in Munich. There wasn't a huge amount in it but France were a bit smoother, a bit calmer, and won the game without really getting out of second gear.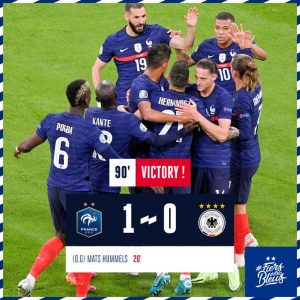 Germany's Toni Kroos looks dejected after the match.
Germany's Toni Kroos looks dejected after the match. Photograph: Matthias Hangst/Reuters
Updated at 10.02pm BST
Advertisement
30m ago 21:51
90+4 min Rabiot is replaced by Ousmane Dembele. Talking of which.
"Rabiot has been brilliant," says Kári Tulinius. "He marked Havertz out of the game, and has generally been the stone in Germany's shoe for the whole game."
30m ago 21:50
90+3 min "So one of the favourites only wins thanks to an own goal," says Lizz Poulter. "Not a devastating display of form."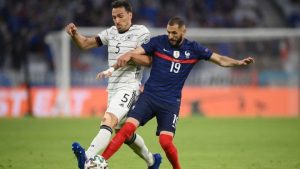 You don't always get the full picture when doing an MBM, because half the match is spent looking at a computer screen, but I think France have looked terrific against a German side who will surprise a few people in the next fortnight.
32m ago 21:48
90+1 min The pictures are back, and a groggy Adrien Rabiot is receiving treatment. There are six minutes of added time, though it should be seven or eight now because of this stoppage.
33m ago 21:47
ITV HAVE DONE IT AGAIN!
89 min They've gone to an Alipay advert mid-match!
ITV apologises after cameras miss only goal in Merseyside derby
Read more
35m ago 21:46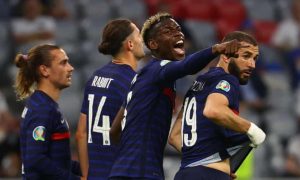 89 min Corentin Tolisso comes on replace Karim Benzema, who was fairly quiet but produced enough high-class touches on his return to competitive international football.