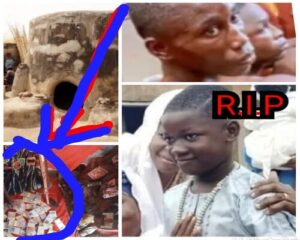 Watch Video;Tears Flow As Body Of Murdered Boy In Kasoa Is returned Home For Burial
The final funeral rites for Ishmael Mensah Abdallah took place at the Amanfro cemetery in line with Islamic customs.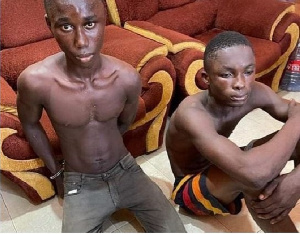 Ishmael was gruesomely murdered by his two teenage friends with the intentions to use his body parts for money rituals.
The two suspects Felix Nyarko, 16, and Nicholas Kiki, 18, told the police after their arrest that the spiritualist demanded a human being as well as ¢5000 in exchange for riches.
In their bid to meet her demand, the duo admitted to the police that they killed Ishmael Mensah Abdallah, a family friend of the first accused, Felix.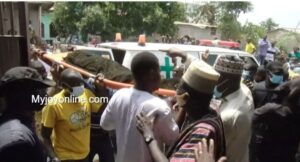 They lured him from his home to a nearby uncompleted building where the second accused, Kiki, hit the back of his neck with the wooden handle of pickaxe and Felix hitting him with a cement block.
The young boy died immediately.
On Thursday, the family of the deceased, friends and sympathisers gathered to pay their final respects to the boy.
Speaking to JoyNews, many of Ishmael's friends and classmates described him as an intelligent and caring pupil with a promising future.
His teacher, Godlove Yeboah told Maxwell Agbagba the deceased was particularly caring and resourceful.
"He loves everybody in the school…he is caring, generous and kind. Even his friends can testify to that," he said.
Member of Parliament for Bortianor Ngleshie-Amanfro, Sylvester Tetteh was also at the ceremony to commiserate with the family.
Mr Tetteh who also doubles as the Vice-Chairman of the Communications Committee highlighted the need to ensure that the use of media spaces to propagate get-rich-quick messages becomes a thing of the past.
"We need to have a law to regulate content in the media space," he said.
He, however, wants the police to expedite on investigations to bring justice to the family while advocating for alertness among community members at all times.
"I think that we must intensify security and be our neighbours' keepers.
Meanwhile, the fetish priestes alleged to be at the centre of the gruesome killing was arrested on Thursday at Amanase near Suhum in the Eastern Region.
Watch video;