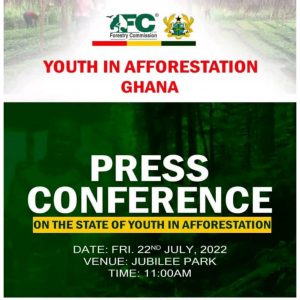 Press conference by youth in Afforestation to address their grievances
The youth in Afforestation enormously engage with a press conference today for addressing their grievances to the media concerning their arrears making life truly unbearable whilst working without pay and the sustainability of the Afforestation programme.
The venue for the press conference is Asem Boys School, behind the Jubilee Park
https://t.me/news4updates
The national Youth in Afforestation program under the Forestry Commission has bitttely indicated their zeal to vehemently embark on series of protests over unpaid arrears.
Their initial release indicates that, the government has failed to settle their due allowances as initiated.
https://t.me/news4updates
In an interview with myjoyghana, the beneficiaries said, all efforts to address the issue have proven futile.
The Afforestation beneficiaries also threatened a full-scale demonstration if their demands are not met.
https://t.me/news4updates
With an exclusive interview with some of the beneficiaries of the Afforestation youth initiated that, "They really want the government to know that, if they do not pay our owed allowances, we are going to hold placards in front of the headquarters. If nothing comes out of that, we will go back to the drawing board to fix a date for a mega demonstration."
https://t.me/news4updates
In line with the NPP's 2016 manifesto commitment of the forest rehabilitation, and forest protection activities, the Youth in Afforestation Programme was launched on August 13, 2018.
It is an initiative to help reduce the rate of youth unemployment while building more trees.
https://t.me/news4updates
But sadly, the beneficiaries have over time pleaded with the government to do well in honouring its promise to pay allowances owed to them.
The government's inability to pay the arrears has always compelled the beneficiaries to resort to demonstrations to drum home their concerns about the non-payment of allowances and poor working conditions.
https://t.me/news4updates
They bemoaned the hardship they have been forced to endure over the period as a result of the arrears.
Source:https://myjoyghana.com/