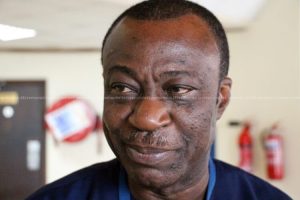 It is not my voice-Dr. Akoto Osei reacts to alleged leaked audio against Ofori-Atta and Bawumia
Listen to the alleged leaked voice below!
https://myjoyghana.com/general-news/it-is-not-my-voice-dr-akoto-osei-reacts-to-alleged-leaked-audio-against-ofori-atta-and-bawumia/
Dr Anthony Akoto Osei who's the Presidential Advisor on the Economy,
has rebutted claims that he attributed the performance of Vice President Dr Mahamudu Bawumia and Finance Minister Ken Ofori-Atta as worse ever.
Dr Akoto Osei is alleged to have remarked "Ofori-Atta and Bawumia are worse as each other" in a leaked tape.
In a press statement sighted by The Independent Ghana, Dr Anthony Akoto Osei faulted Ghanaweb for disseminating an article indicating that he made such comments.
"My attention has been drawn to a post on Ghanaweb and other social media platforms including a purported leaked tape which has me allegedly commenting on the performance of the two personalities mentioned in the headline.
"I wish to categorically deny making these unfounded statements either in an interview or in an engagement with anybody."
According to him, the said voice in the viral leaked tape is not his; adding that he does support the comments made by the unknown individual in the tape.
Dr Anthony Akoto Osei, has therefore, demanded that Ghanaweb retracts the said article on their website and render an apology for the damage caused.
He also wants the media house to ensure his reputation is left untainted by publishing the rejoinder issued by the Office of the President.
"Not only do I demand this rejoinder be published with the same prominence given the wicked allegation, I further demand a retraction and apology from Ghanaweb," the statement read.