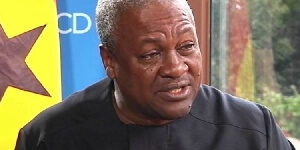 The International Monetary Fund (IMF) has said recent claims that Ghana has gone HIPC is "flawed" and "deceptive".
"The HIPC Initiative is essentially closed for countries that have already reached the Completion Point. As you may recall, Ghana successfully reached the Completion Point in July 2004," a statement from the IMF's Resident Representative to Ghana, Dr Albert Touna-Mama, has said.
According to the statement, the list of countries that have qualified for the HIPC Initiative since its inception in 1996 is regularly updated and must not be interpreted as a new HIPC list.
"Any such interpretation is flawed and may be deceptive," Dr Touna-Mama added
He noted that the recent update of Ghana's debt-to-GDP ratio "has not triggered any decision or action by the IMF."
The IMF's clarification comes a day after Ghana's former President, Mr John Mahama, who is also the presidential candidate of the main opposition National Democratic Congress (NDC), told different groups of professionals with whom he interacted on Monday, 266 October 2020, that: "The IMF, in its sub-Saharan Africa Regional Economic Outlook, forecasts the current rate at a frightening 76.7% of debt-to-GDP ratio".
"Officially", Mr Mahama announced, "Ghana is back to HIPC status under Nana Akufo-Addo and Ken Ofori-Atta".