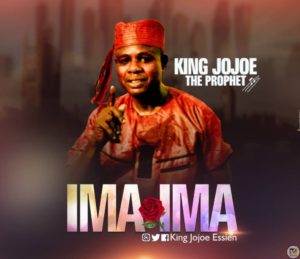 Superstar King Jojoe the Prophet kick start the new year with a new tune dubbed "Ima Ima" Mp3 Download after his last single "Okowo Ikwo Ukwak" in 2018.
Ima ima means my love, A serious love, and the meaning of this song is about a couple who's in serious relationship where by the both parents are not in support of the relationship and a serious questions where asked towards the lovers that man in questions he's not financially stable and there's no permanent accommodation to take in his bride and the answers from the couple's was as long as they love each other they will hustle together to make their future meaningful
Consequently, the ballad Dance/EDM song "Ima Ima" sees King Jojoe the Prophet gearing up the release of his second studio album expected sometime this year. Moreover, the multi talented artiste has been working hard to avail his project after a successful 2018. Couple of days ago, he shared a video snippet of his forthcoming track with top artistes to build up his Audience.
"Ima Ima" by King Jojoe the Prophet is a dance tune with love after love and appreciative lyrics. Listen and Enjoy below.