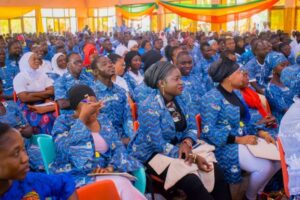 Nabco trainees must confirm their presence at post
https://t.me/news4updates As NABCO is progressively engaging the permanency of trainees, it's therefore relevant to trainees who have remained at post till date from November, 2021 to March,2022 to be counted for their presence at post.
https://t.me/news4updates
Therefore, every trainee who's at post is mandated to submit a letter from their institution with the confirmations that, they truly remained at post.
https://t.me/news4updates
The letters must be official with the institution's official letter head,duly signed and stamped by their supervisor or line manager, of his or her institution of post.
https://t.me/news4updates
Furthermore, trainees are likewise supposed to attach a copy of their original certificates for confirmation by their district Secretariat
Source:https://myjoyghana.com/