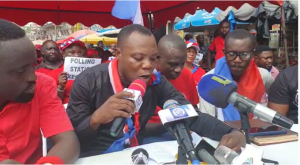 NPP Polling Station executives tell MPs to avoid partisanship
The NPP Members of Parliament who are currently initiating to induce delegates with money for supporting the candidature of Vice President Dr Mahamudu Bawumia should desist from their action, a group of some polling station executives of the NPP has said.
The spokesperson for the group Frederick Owusu said that these lawmakers want to force Dr Bawumia on the delegates.
He asked them to stop their action and allow the NPP structures to elect a flagbearer who will be accepted by all.
Addressing a press conference in Kumasi on Thursday, March 16, he said "we have observed that some Members of Parliament holding juicy appointments and contracts in the current administration have been moving from funeral to funeral and granting interviews endorsing Dr Mahamudu Bawumia as well as forcing him on the throat of NPP polling station executives to accept him as the 2024 presidential candidate. We want to send a strong signal to those Members of Parliament to desist from such a campaign.
See also NPP Presidential Primaries Must be Free and Fair; Stop Championing Alan-Bawumia ticket – Owusu Afriyie
"We, the grassroots and delegates want to send a strong signal to these Members of Parliament to desist from such a campaign. It is believed that the office of the Vice President has promised those MPs huge cash. We are hereby saying that NPP is not for sale.
"We the grassroots and delegates will stand united behind the presidential candidate who will be accepted by the people of Ghana and the ideal presidential candidate who has a message of hope for the teeming unemployed youth."