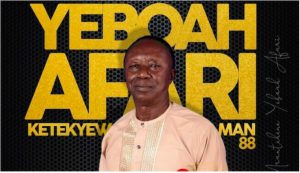 Watch the final video of Mmrantiehene before his death below
Veteran Ghanaian journalist Mmrantiehene has died after a short ailment.
According to reports reaching the media indicates that, the veteran broadcast media personality mmrantiehene died in the early hours of Saturday 17th September 2022 after he was admitted to the Manyhia Government Hospital – Kumasi.
He has for numerous years thrilled listeners of radio in Kumasi and across the country with his rich history of the Asante culture popular cliches coined by him and finesse with the native language.
The late media personality has worked at various radio stations in Kumasi for more than a decade having spent nine years at Fox FM, OTEC FM, New Mercury and also worked with Kessben FM before recently joining the newly opened Sompa FM.
The sad thing about the death of Mmrantiehene is that was live on-air on Sompa FM just yesterday, Friday, September 16, 2022, however, Ghanaians woke up today to be told of his death.
Watch the final video of Mmrantiehene before his death