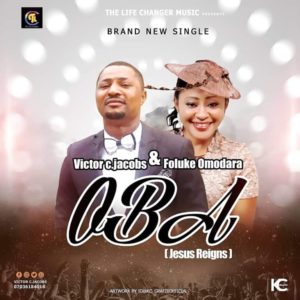 The Life Changer Music International Ceo VICTOR C JACOBS releases a new Single titled 'OBA'. Ft FOLUKE OMODARA
This comes out on the heels of his Debut Single "VICTORY "
OBA is a song that assures you of Gods continued presence with you. When we walk through dark and trying times, the tendency is to think or feel like God is not with us. But He always is. Heb 13:5b.
The presence of trouble is not the absence of God.
It is my sincere prayer that this song will bring the peace and comfort that our world desperately needs. Experience the joy of His presence.
Stay Safe!! Stream & Download Audio Below
A King is born His name is Jesus
Saviour Light of the world
Emmanuel we worship Your supremacy
Hallelujah! You reign in majesty
Halle Hallelujah (Jesus you reign)
Halle Hallelujah (Glory to the Lamb)
Halle Hallelujah (Jesus you reign)
You reign forevermore
CHORUS
Iwo nikan loba
Iwo nokan loba
Iwo nikam loba
Iwo nikan lobs
2nd Solo
For your love You gave your everything
With the fruit of my lips
I will sing the song of praise to you
The heavens and the earth
They bow before your throne
All kingdoms will fade away
But Yours will still remain forever
Halle Hallelujah (We sing Halle we sing Halle)
Halle Hallelujah (We lift our voice to say)
Halle Hallelujah (Halle Halle Halle)
Lord we worship You
Chorus
Iwo nikan loba
Iwo nokan loba
Iwo nikam loba
Iwo nikan lobs
Bridge
Oba awon oba o
Oluwa awon oluwa
Oba alade alafia
Oba ti n f'oba je o
Oba to n gba'gbara lowo alagbara t'onfini lara
Jesu kristi
Oba mi o
As'eda mi o
Am'eda mi o
Aw'eda mi o o o o
Yeah Apanla nla to s'ole aye ro o
Erujeje Erujeje tin mi'gbo kijikijikiji
odigi oye dika gi chie chioma Mara obi mo eze ndi eze olile aya ndi nso
nwere nwe nani GI bu onu ochim le he he
prince of peace lord of lords mighty God Nara ekele counsellor Nara otuto
everlasting father the Pilar that
holds our lives odigi oye ozu nwere chime redeemer we enthrone you
ekele oma kan ge bia neru gi we glorify your name ujija nma kan ge yegi
Jesus nanigi gara na ala nmo churu ugo lo ta mighty King amama
masi amasi Iwo ni kon loba Nara ekele)2c Nara otuto Nara ojiga
nma eeh oba lanu oba loni oba titi ayaraye raye Raye no ju bare
you are the reigning king Iwo ni kun lo oba Jesus Iwo nikon lo oba we
enthrone you we adore you, Iwo Nikon lo oba)3c thank you Jesus
Halle hallelujah