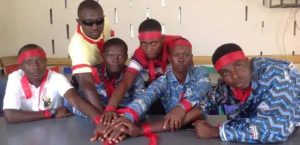 Gov't response to NABCo picketing
Palgrave Boakye-Danquah, the government's spokesperson on governance and security, has asked Nation Builders' Corps (NABCo) trainees to avoid from issuing ultimatums to the government. According to him, trainees should stop threatening the government because it is striving to answer their problems, according to asaaseradio.com.
"The NABCo trainees and team should show far greater prudence." On August 17, 2022, they presented this petition to the government… They don't need to issue an ultimatum to the government… The government has announced that they are rolling them into YouStart as number two on their permanent job structure.
See also 'Dash us one of your stadiums after World Cup" – Sports Minister begs Qatar
Related Articles
27 SHS Students in Kwabre East are HIV positive – Heath Director discloses
20 hours ago
JUST IN: Nana Addo enskinned 'Chief of Truth'
1 day ago
No hospital wants to employ us despite financial clearance – Picketing nurses
1 day ago
"Once YouStart launches on September 1st, all NABCo members who have been part of the government NABCo scheme will be able to apply for YouStart to get some money and come together and start businesses to be able to advance whatever entrepreneurial work that they want to do," Boakye-Danquah is quoted as saying on Asaase News.
The government spokesman made the statements in response to trainees' warning to picket outside the presidency if the government does not address their issues during a rally in Accra.
The trains were protesting for their 10-month pay arrears and permanent employment. Some of them also call the YouStart entrepreneurship program, to which the government has promised to transition them, a scam.
"The interpretation here is that you have not been able to sort it out with simply GH700. You've had it (the allowance) for ten months. If you can't pay the GH700, how can we trust you to pay the GH50,000 and GH100,000 you've promised us for the YouStart?
"It (the YouStart program) is a complete sham because GH700 is a pittance in comparison to their ex-gratia and perks." "It's a terrible rip-off," one of the trainees stated.