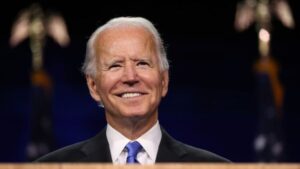 Joe Biden has fulfilled a decades-long goal as he was elected to be the 46th president of the United States on Saturday in a race that saw record turnout.
Biden was announced as the projected winner of the presidential race by theAssociated Press, CNNandNBC Newsthat saw more than 100 million citizens cast their ballots early before Election Day and a total of more than 140 million votes cast.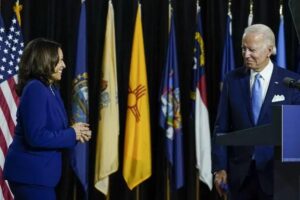 After four days of a hard-fought contest, Biden obtained the needed 270 electoral votes on Friday after picking up Pennsylvania's 20 electoral votes that took him over the threshold to become the president-elect.
Read also Sethoo Gh preaches peace ahead of 2020 elections
The former vice president also won traditional Democratic strongholds like Pennsylvania Michigan and states that have traditionally voted Republican but supported him over President Donald Trump.
Biden and his running mate, Sen. Kamala Harris , also made history garnering the most votes ever from a presidential ticket with over 70 million ballots cast to elect them as the next president and vice president of the United States.
Democratic presidential candidate former Vice President Joe Biden invites his running mate Sen. Kamala Harris (D-CA) to the stage to deliver remarks at the Alexis Dupont High School on August 12, 2020 in Wilmington, Delaware. Harris is the first Black woman and first person of Indian descent to be a presumptive nominee on a presidential ticket by a major party in U.S. history. (Photo by Drew Angerer/Getty Images)
Trump, the incumbent, was plagued by disapproval over his handling of the COVID-19 pandemic and Biden stressed to voters that he would make finding a remedy to be one of his top priorities if elected. What's more, Trump was ridiculed for his leadership of the country, which has been divided over incidents of racial violence and police brutality.
Biden, the former vice president to America's first Black president, Barack Obama , promised Americans on the campaign trail that, if elected, he would "restore the soul of America" — his campaign's slogan.