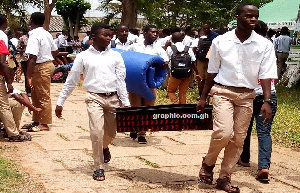 Teachers and students of Senior High Schools running the single-track system are demanding an explanation from the Ghana Education Service over the new time table for 2019/2020 academic year describing it as unfair.
Teachers and Students of the single track SHSs have been in school since September 15, 2019, and went on break on December 20, 2019, which they were expected to resume on March 1, 2020, per the initial calendar.
However, per the new directive by GES, the teachers and students on Singletrack are also to report in January and go on vacation in early June 2020.
This means, in spite of not having enough rest for the first term, Form One and Two students on Single Track Senior High Schools will again spend close to six (6 ) straight months in School, per the new directive by the Ghana Education Service.
The Ghana Education Service (GES) announced Sunday, January 2, 2020, the re-opening date for all Form Three Senior High School (SHS) student
The statement signed by the Head of Public Relations Unit at the GES, Cassandra Twum Ampofo, said, Form One and Two Green Track students, as well Form One Gold Track students will also re-open on the 5th of January 2020 to complete their 1stSemester.
However, all Form 2 Gold Track students will resume on 1st March 2020.
"It is expected that the Form 2 Gold students will have a full session to continue and finish part of their 1st semester and also continue through to end the 2nd semester for the 2019/2020 academic year".
The statement called on both teaching and none teaching staff as well Students to " return over the weekend to ensure that full academic work resumes on Monday 6th January 2020," the statement noted.
The decision, according to the GES is "to enable the final year students to have ample time to prepare for studies