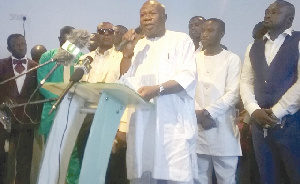 leading member of the governing New Patriotic Party (NPP) Dr. Amoako Tuffour has charged the party members in the Ashanti region to adhere to the democratic principles governing the party especially as they prepare towards their parliamentary primaries.
Dr Tuffour believes the era of dictatorship in the party is fast gone by.
"Nobody should prevent anyone from contesting the primaries because NPP believes in democracy and it is not a party with a dictatorship rule," he stated.
Dr Tuffour's statement comes on the backdrop of a seeming imposition of some parliamentary candidates in the Ashanti region for the 2020 elections.
He, thus, told the party members to calm down, adding that democracy is not "dictatorship".
Speaking on Accra100.5FM morning show, Ghana Yen Som with the host, Kwabena Prah Jnr., Dr. Tuffour advised the party executives to allow qualified members to contest to prevent 'skirt and blouse' voting in the December general elections which could have an adverse effect on the party.
He called on the national executive to take such matters to congress to spell out the qualifications for a candidature for the NPP primaries.
"Some of the party members have worked for the party from TESCON to other ranks and have nurtured their political ambitions and preventing them will cause the party so much.